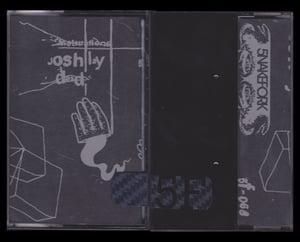 $

7.00
5F-068
JOSH LAY "Dead" - a cassette reissue of two long gone releases, "dead blessings" [2007, chondritic sound 3"cd-r] and "dead kentucky" [2009, smell the stench c10] - Stark subterranean sound forged in forest and factory. Flashes of power electronics, blackened noise, and metal.
Although the two releases were not meant for each other initially, each contrasts the other incredibly well. The B-side serves as a proper "reaction" to the militant, brutal climax of the first half.
Professionally duplicated half black/white c27s, red leaders, graphite decals, screen printed J-card's with art from J. Tapia.
#'d edition of 60 copies.
PRICE INCLUDES POSTGE IN THE USA!